What To Ask When Hiring A Window Cleaner in Phoenix, Arizona.
Can We Agree That All You Want Is A Reliable and Trustworthy Window Cleaner?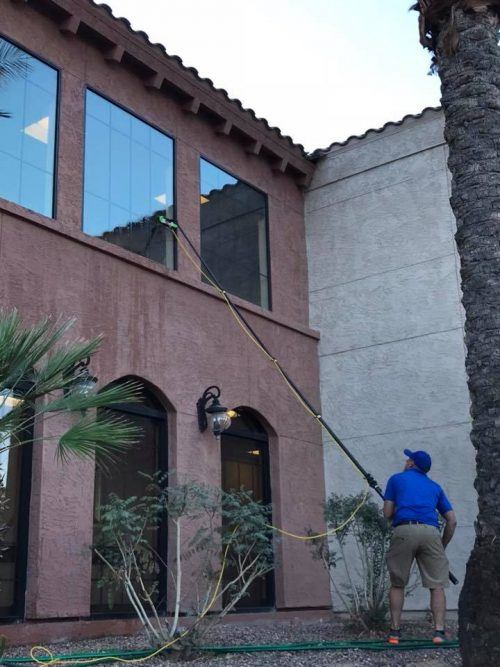 It will surprise you how many guys out there cleaning windows are not properly insured. The fact that window cleaning has a low cost of entry attracts a lot of people to start a "window cleaning business".
The problem is that if and when they break a piece of glass or their ladder falls on your car, if they are uninsured, you are in deep trouble.
2. How Long Have You Been A Window Cleaner?
In our opinion it takes someone a good season of window cleaning to become sufficient at the trade. There are many obstacles that a window cleaner in Phoenix can run into and inadequate training can lead to a nightmare.
3. Do You Have Workman's Comp?
Workman's compensation is necessary when a window cleaning company has W-2 employee's that are working in dangerous situations such as climbing ladders all day while cleaning windows. If a workers falls and is injured, the employee can then come after the homeowner in search for compensation for the injury they have sustained.
4. Explain Your Pricing, Please....
Some window cleaning companies see a large home and immediately think they can increase their prices because the client must be rich, right? South Mountain Window Cleaning has a pricing structure that is the same for an 800 sq. ft. condo or a 6,000 sq. ft. custom home. You work hard for your money and should not fall victim to those schemes.
We'd Love The Opportunity To Earn Your Trust.
If you do not have window cleaning company that treats you fairly, we would love the opportunity to earn your trust. We show up on time, perform quality work at fair prices, and have all of the proper insurance to protect you and your home. Visit our 
website
 or call us at (480) 519-9327 to schedule a Free No Obligation Estimate